Cervical Traction CT-850 For Sell in Bangladesh
The Cervical Traction CT-850 is a medical device that uses gentle pressure to stretch the neck muscles and vertebrae. This can help to relieve pain and improve range of motion in the neck. The CT-850 is easy to use and can be adjusted to fit the needs of individual users.
Features of CT-850 
The Cervical CT-850 features several features that make it a valuable tool for pain relief and improved neck health. These features include:
A comfortable headrest that provides support and reduces stress on the neck

A padded neck wedge that helps to align the spine

A lightweight, durable construction that makes it easy to transport and store

A variety of settings allow users to customize the amount of traction
Uses of CT-850 
The Cervical CT-850 can be used to treat a variety of conditions, including:
Neck pain

Headaches

Migraines

Carpal tunnel syndrome

TMJ

Whiplash

Posture problems

Benefits of CT-850
 The Cervical CT-850 can provide several benefits, including:
Pain relief

Improved range of motion

Reduced stress on the neck muscles

Improved posture

Increased circulation

Reduced inflammation
The Cervical CT-850 Traction is a safe and effective way to relieve pain and improve neck health. It is easy to use and can be adjusted to fit the needs of individual users. If you are suffering from neck pain, the Cervical Traction CT-850 may be a valuable tool.
Cervical

Traction

CT-850 Assembly
All components and parts of the CT850 are hands assembled with precision. Hence from the therapist's point of view, installation, and dismantling of the CT850 on/off the traction table is simple, swift, and effortless. Pull out the aluminum PIN secured by an O-ring and insert the slider's stainless steel PIN into the overhanging then insert the alu. PIN back one again. Mount the over-hanger on the Traction Unit and secure only ONE knob screw. Then pull the traction cord over the 1st pulley and then underneath the 2nd one. Walla, the CT850 is ready to provide the patient with comfortable cervical traction therapy.
1. Attach the slider to the head plate
2. Insert the pin to secure
3. Mount the over-hanger on the Traction Unit and secure only ONE knob screw
4. Pull the traction cord from ET-800 over the 1st pulley then underneath the 2nd one
5. Hook up the cord to the head plate
6. Walla, the CT850 is ready to provide the patient with a comfortable cervical traction therapy
***CT850 is only compatible with our ET800 Traction Head***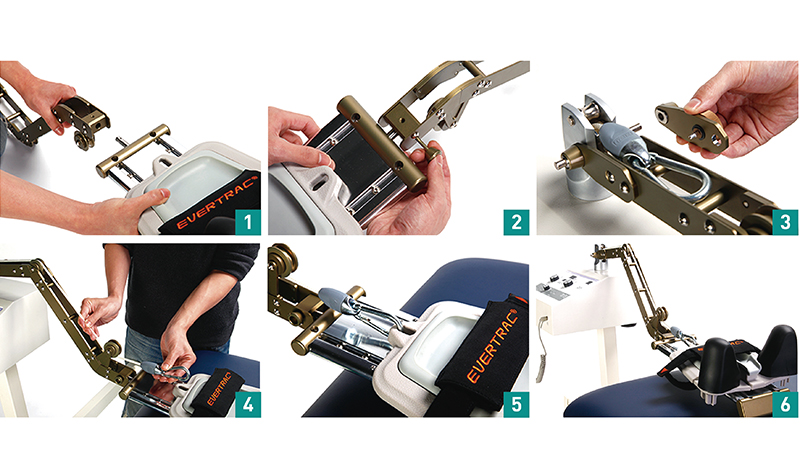 Techno Health – Head office
House-42, Lake Drive Road
Sector-07, Uttara, Dhaka-1230
Cell No: 01842756014
Facebook: technohealth.com.bd
Techno Health (Topkhana Road Branch)
Bagdad Surgical Market
21/A, (1st Floor) Mahbub Plaza
Topkhana Road, Dhaka-1000
01812754847